EARTHQUAKE
SCHEDULE
September 24 2pm UTC+9
Peach Garden: 30 minutes
Heroic Savior: 30 minutes
Three Visist: 30 minutes
MAGNITUDE
Inactive families are moved to inactive areas, as per the standards.
Cities get rearranged according to their score. (Moved by up to 7 cities)
Empty cities may be added.
Some cities in areas that have too many empty cities may be removed.

Cities may move more than 7 cities if empty cities get removed.
Cities that have no occupied town are liable to removal.
CHANGES
NEW CHAMPIONS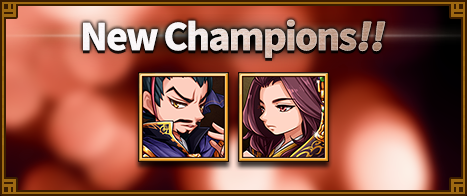 9-star Cao Cao
9-star Yuan Shao
ITEMS

CHANGES
At level 70 or higher, more monsters appearing in the Wild Ridge when attacking.
Increases chances of undestructed bandit dens turning to wild mountain during an earthquake.
Injuries are reduced from 50% to 30%, and the cost of retraining wounds is significantly reduced from 50% to 5%.
CHAMPIONS FOR SALE
The list of the champions for sale gets changed.
8-star Yuan Shao
7-star Yan Liang
6-star Yuan Shang