EARTHQUAKE
next patch will be on May 26th. it will include the stories about the heroes just before anti-Dong Zhuo alliance was formed.
SCHEDULE
May 26 2pm UTC+9
Peach Garden: 30 minutes
Heroic Savior: 30 minutes
Three Visist: 30 minutes
MAGNITUDE
Inactive families are moved to inactive areas, as per the standards.
Cities get rearranged according to their score. (Moved by up to 7 cities)
Empty cities may be added.
Some cities in areas that have too many empty cities may be removed.

Cities may move more than 7 cities if empty cities get removed.
Cities that have no occupied town are liable to removal.
CHAMPIONS FOR SALE
The list of the champions for sale gets changed.
8-star LuSu
7-star MaLiang
6-star HuangYueying
ITEMS

+19 VISUAL NOVEL
true happiness
uncovered mask
pancake merchant
because of liver
gentleman
don't say it's small
apostle Wang Yun
rumors about Dong Zhuo
ambitious first step
where to stand
can't lose a gamble
Gangdong tiger
a name that shines in history
long live Liu Yu
who is the culprit
reconnaissance
there is a prophet
A man who Gongsun Zan believes in
Zhang He noticed
+162 NEW QUEST
Main Quest + 6
Exploration Quest + 39
Patrol Quest + 25
Other Village Attack Quest + 5
Subdue Bandit Quest + 30
Trade Quest + 20
Subdue Quests for Yellow Turban + 10
Research Quest + 2
Troop Production Quest + 25
NEW CHAMPIONS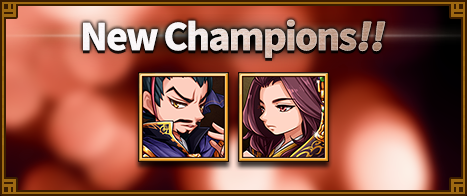 9-star Lu Xun
9-star Pang Tong